Originally erected in 1899 as Baron Shozo Kawasaki's summerhouse, Kyo-Suiran combines Meiji Era architecture with contemporary lighting and seating for remarkably authentic and comfortable dining experiences. Intrinsic to Japanese design, an indoor-outdoor aesthetic is fostered by floor-to-ceiling windows, offering optimal, unobstructed views of the tranquil Arashiyama hills and Hozu River—only a stone walkway beneath the eaves separates the house from the surrounding gardens. Vaulted ceilings with exposed beams crafted of entire tree trunks demonstrate a reverence for natural timber, while shoji screens, original art, and precious calligraphy by Masayoshi Matsukata further enhance the distinctive character of this traditional 19th century residence.
From traditional teppanyaki dishes or Kinshu—our 10-course seasonal dinner. Signature cocktails include the Sagano, which blends the brightness of yuzu and shiso with the dense flavors of whisky aged in Japanese oak barrels. Children can choose from familiar à la carte selections including omelets, chicken nuggets, minestrone, and more.
The restaurant also offers a private teppanyaki room and a private dining room for 10, ideal for intimate garden-side gatherings.
Number of seats:
60 (Dining : 44, Teppanyaki "Kanzan": 4, Private Room "Shogetsu": 10)

Business Hour:
Breakfast 7:00a.m. ~ 10:00a.m.
Lunch 11:30a.m. ~ 2:30p.m.
Dinner 5:30p.m. ~ 9:00p.m.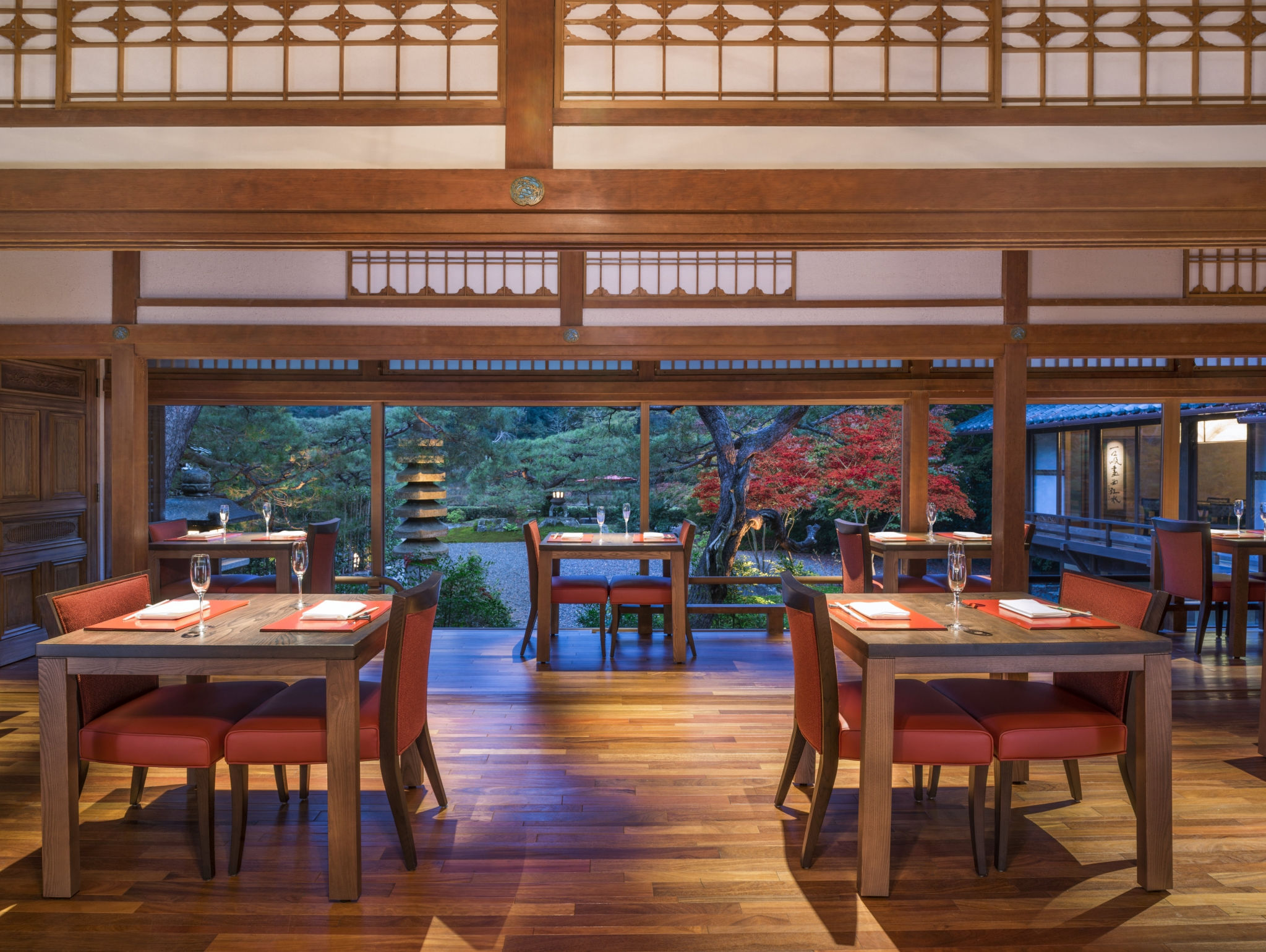 Recommend
Lunch Course "miyabi"
¥4,500
Composed by Executive Chef Yoshio Matsuse,"Miyabi", lunch Kaisei course offers ingredients admire the changing of the season.
Dinner Course "Kinshu"
¥21,000
"Kinshu", our signature dinner Kaiseki course, offers traditional Japanese Kaiseki cuisine inspired by French presentation and cooking style.
For Reservation or Inquiry
Please Call +81 75 872 1555 or restaurant@suirankyoto.com
The above rate is subject to 10% service charge and consumption tax.
The photo is for illustrative purposes only.